In today's world, I am ever grateful for the promise that my husband and I can be together forever with our two sons. If we continue to follow God's plan, we are guaranteed to be eternally happy–and together with Heavenly Father. This blessing is extended to every person who has ever lived on this earth. Heavenly Father loves us all so much that He wants everyone to experience His choicest blessings, but He won't make us choose His way. So what is His way when it comes to marriage?
Centuries of Traditional Marriages
For centuries, God's will for marriage wasn't questioned. There were some people who struggled with same-gender desires, but the clear choice was marriage between a man and a woman. In my lifetime, since the 70's, I have seen a HUGE shift in attitude regarding marriage and choosing marital partners. Some say it's progressive to think that we can love a partner any way we want, through the bonds of marriage or not. But that thinking and those choices do not lead to ultimate happiness. They instead lead to confusion, heartbreak, and in some cases, disease and death.
Since the beginning, God created man and woman, male and female to comfort one another and multiply human life on this planet. Without this carefully designed union, the earth could not be populated. Fast forward to today, and heterosexual, homogenous marriages are still the ideal union, leading to happier home environments wherein children can be raised. Not all such marriages are perfect, and divorce does happen, but single parents, step parents, and former spouses can still serve as excellent role models for their children.
Our Experience
For my husband and I, our sons are our greatest joys. The first is 12 years old. We love him like crazy!! His little brother is two. We had hoped and prayed for him for 10 years and were beyond ecstatic when he joined our family. Both boys are truly a delight! We love them even when they fight and pick on each other. 🙂 As a couple, we know what it is likely to struggle with infertility. Our experience was heartbreaking and frustrating as we struggled through a miscarriage and years of waiting. But we knew that God loved us and had a plan for our little family. We were reassured of this many times.
As a father/mother-husband/wife team, we complement each other in many areas. But we have many differences as well. Some of those are due to personality types, but some occur because we are of different genders. I am naturally more patient with the kids and can often sense their needs and feelings before my husband can. I am also a hugger, a cheerleader, and a soft shoulder to cry on when needed. Dad is some of those things too, but in different ways. His strengths lie more in making plans, accomplishing tasks, and making sure our needs are provided for. He is also certainly loving and kind to our boys. But when one of them is hurt while playing sports, for instance, he's more likely to say. "Jump up! Dust it off! You're ok." I, on the other hand, rush in with a hug, lots of kisses, a thorough assessment of the injury, medicine, and lots of bandages, plus a drink of water and a story from a favorite book. Together, we provide our children with different, yet much-needed, care. You can't dwell on injuries forever, and it's good to get back into the game if you can. But a little lovin' from Mom helps too.
Then there are specific gender needs. Our oldest is asking questions about his changing body. Oftentimes, he just wants to talk to his dad–and rightfully so. He can ask me anything he wants, and sometimes he does. But more often, he'll seek out his dad to answer the manly stuff. All boys and girls need a parent of their gender to fully understand their bodies and the physical changes they are experiencing. A father-figure or mother-figure can fill in, but it's not the same. Single parents must do their best in this dual role, but if given a choice, they would prefer the husband-wife roles to meet their children's needs.
Single Friends Who Still Wait for Marriage
It also took me many years to find my husband, Cole. I was 29 when we finally met. In Mormondom, that's OLD! 🙂 I know what it feels like to long for a lifelong and eternal companion. Yet I held onto that promise as I waited, and I obeyed God's laws. Fast forward many years later, and some of my girlfriends are still single–and not by choice. They long for a husband, but they continue to remain chaste and still hope to find an eternal mate. I know of men in our LDS faith who are also in this situation. For either gender, if they are tempted to have sexual relations before marriage or have same-gender desires, they do not act upon those desires. They remain faithful and true to the bounds the Lord has set.
How do they remain so faithful? They keep an eternal perspective. They know that eternal promises don't change, and they are entitled to them as much as anyone. When I learn of someone in my religion who is living the commandments despite such incredible challenges, I am inspired by their example. They want to be together forever with the ones they love, and they know that this mortal experience is just a test. It's not eternal. But our choices will last into the eternities.
Marriage Defined by Man
The Supreme Court's recent ruling that same-sex marriages be legalized in every state is a short-sighted decree that promotes a lifestyle which cannot sustain happiness. The result will cause a slippery slope of demoralization in this nation. Naturally, people of all desires and ideas will also want to legalize other variations of marriage. I'm sure the snowball effect will eventually host a variety of prospects, including polygamists, swingers, and others who wish to perform perverse sexual acts. Does this sound like a plan of happiness to you? Certainly not. That's why it isn't part of God's plan–at all. Does He still love those who struggle with these desires? Of course. But He does not alter His laws or plan for marriage between a man and a woman.
Despite what the world decides to do regarding marriage, I am comforted to know that within the Lord's holy temples eternal marriage is and always will be between a man and a woman. Earthly laws can and will be changed according to man's whim. But God's laws won't change.
Children Need a Mom and Dad
I am grateful that Heavenly Father has blessed me with a kind, loving, husband. I love sharing intimacy with him and together creating children. I love that my sons have an earthly father they can look up to. He is also an example to other young men. The boys all look up to him and watch how he does things. They emulate his example in many ways. That's why it's ever important that he set a good example.
I am concerned for children who may be adopted into same-gender unions. So much of what they learn is by example. I can only imagine the confusion they will face with the examples of two moms or two dads. They may not grow up to be homosexual themselves, but they will have a lifetime of behaviors to unlearn or reconcile. At very young ages, they will have to deal with complex, grown-up issues that they shouldn't have to face. Even if they are raised in a loving home, their parents' examples confuse role and gender identities–both central to our individual identities.
Same-Sex Unions Will Still Struggle 
Do I fully understand the challenges of those who desire same-sex marriages? Certainly not. Their challenges must be incredible, and I don't want to add to their burdens. I do want people to have happiness in this life. I just wish they'd keep an eternal perspective about what will make them happy forever. I wish they would also take into consideration the feelings of others. Their union is different from a heterosexual union. Trying to make the same rules apply to all kinds of marriages doesn't fix that. You can't change God's design that only a man and a woman can procreate. Homosexual couples will always need to rely on someone outside their relationship to help them reproduce. That's different from being a heterosexual couple who adopts because they can't have children. They would if they could, and their bodies were designed to go together to do just that.
To those who struggle with same-gender attraction, I do care about you. In my life, I have had close associations with a few individuals who have battled such desires. I believe that if they could pray away these desires, they would. Yet the challenges remain. I am so incredibly sorry that you have been asked to bear such burdens. I cannot even imagine your struggles. But God's plan of happiness does apply to you. Keep an eternal perspective. You WILL have every blessing promised to everyone if you do so. God does love you as much as He loves me, my husband, and my family. Follow the plan for His blessings and seek His will in all things.
How has marriage between husband and wife blessed you? If you are single or no longer married, what do you do to keep the faith for this blessing?
Marriage between a man and a woman is sacred. In light of the Supreme Court's recent legalization of same-sex marriages, I've joined with other bloggers to share how traditional marriage has blessed our lives and to share ideas for strengthening our relationships as husband and wife.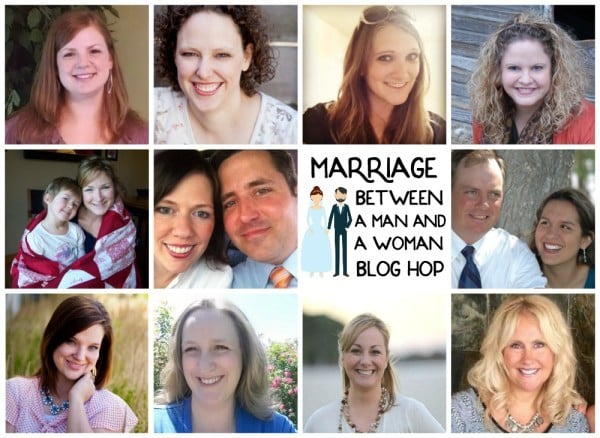 Mandy @ A Bliss Complete |Hilary @ Pulling Curls |Emily @ Celestial Shine Magazine | Kerry @ My Random Sampler
Jocelyn @ We Talk of Christ | Jenifer @ Moss Moments | Montserrat @ Cranial Hiccups
Jennifer @ My Daylights | Camille @ Chicken Scratch 'n' Sniff | Angela @ Mormon Women Stand | Kathryn @ Well Behaved Mormon Woman