Marriage and family matter to people of all religions, in all parts of the world. That's the message Elder L. Tom Perry, Quorum of the Twelve Apostles, shared recently in the April 2015 LDS General Conference. Since the mission of My Random Sampler is to help strengthen families everywhere, I thought Elder Perry's talk would make a great Monday-night lesson. And since April 27 marks the 100th Anniversary (or birthday, as I like to think of it) of Family Home Evening, I simply couldn't resist posting a simple outline that you might share with your family tonight.
Advance Prep
Click here to read or listen to Elder Perry's talk.
Print the talk and cut into sections for family members to read aloud.
Optional Prep Ideas
Make or buy a birthday cake and ice cream. Place a few simple birthday decorations around if you have them.
Consider showing this short video clip.
Gather a few magazines, crayons, markers, scissors, glue, and paper.
Find a world map or globe, if easily attainable.
Lesson Outline
Explain the following background:
Last November, Elder Perry attended a colloquium, which is an educational conference, at the Vatican in Rome, Italy, with Pres. Henry B. Eyring, First Counselor in the First Presidency, and Bishop Gérald Caussé. Explain how the location is honored by the Catholic religion and other Christians. The fact that leaders from our church would also be invited shows that many of our beliefs are honored by other religions too.
Invite a family member to read: Pope Francis opened the first session of the assembly with this statement: "We now live in a culture of the temporary, in which more and more people are simply giving up on marriage as a public commitment. This revolution in manners and morals has often flown the flag of freedom, but in fact it has brought spiritual and material devastation to countless human beings, especially the poorest and most vulnerable. … It is always they who suffer the most in this crisis."
Discuss as a family what the Pope's statement means. Point out that this is something that we believe in our religion too.
Elder Perry talks about how he felt much unity among all the religious leaders present at this gathering.
Invite a family member to read: One of my favorites was when a Muslim scholar from Iran quoted two paragraphs verbatim from our very own proclamation on the family.
During the colloquium, I observed that when various faiths and denominations and religions are united on marriage and family, they are also united on the values and loyalty and commitment which are naturally associated with family units. It was remarkable for me to see how marriage and family-centered priorities cut across and superseded any political, economic, or religious differences. When it comes to love of spouse and hopes, worries, and dreams for children, we are all the same.
Share this visual and discuss what it means. Why would Elder Perry say this?
Invite a family member to read: Now, you may be asking, "If the majority felt that similarity of family priority and beliefs, if all of those faiths and religions essentially agreed on what marriage should be, and if they all agreed on the value that should be placed on homes and family relationships, then how are we any different? How does The Church of Jesus Christ of Latter-day Saints distinguish and differentiate itself from the rest of the world?"
Here is the answer: while it was wonderful to see and feel that we have so much in common with the rest of the world in regard to our families, only we have the eternal perspective of the restored gospel.
What the restored gospel brings to the discussion on marriage and family is so large and so relevant that it cannot be overstated: we make the subject eternal! We take the commitment and the sanctity of marriage to a greater level because of our belief and understanding that families go back to before this earth was and that they can go forward into eternity.
Sing or watch and listen to "Families Can Be Together Forever," (Children's Songbook, p. 188).
Close by sharing your testimony of the importance of family and how special your family is to you.
Refreshments: Bithday cake and ice cream. Your children are probably wondering whose birthday you're celebrating. Have them guess. If no one guesses the correct answer, tell them you're celebrating the 100th Birthday of Family Home Evening. That means that on April 27 100 years ago, Family Home Evening was first started. That's a long, long time ago–and great cause for celebration!
Activity Suggestions. Choose one or two that suit your family situation:
Show the picture quote above. Explain that it helps us to remember what we've learned if we combine a favorite quote from the lesson with a picture. Encourage everyone to find a picture in a magazine or draw one that represents family. If your children are old enough to read and write, they can then add a sentence or two from Elder Perry's talk, or they can add any favorite quote about families. When finished, invite everyone to show their creations and display them in the home.
Share scrapbooks. Sit down together and look through your family photo albums. Reminisce about times shared, and enjoy seeing how everyone has grown over the years. If appropriate, point out that even if some families don't have both Mom and Dad at home, good family memories can still be created and cherished. Families come in different sizes and from a variety of situations and circumstances.
Write letters to family members. If you have family members who live long distance or are serving a mission, consider writing them a letter or sending a picture that shows you are thinking of them.
Spotlight an ancestor. Show a picture of an ancestor or an item that belonged to them. Tell a little bit about this person and testify that families are forever. We can see our loved ones again, and we look forward to meeting ancestors who died before we were born.
Locate Italy on a map. Where did Elder Perry go to attend the colloquium? How far away is Rome from where you live? Families are important to people worldwide. Do you know of people who live in other countries? Where? Point out that their families are important to them too.
How will you share this lesson with your family? What ideas did you add?
Visit these other bloggers to find more great family home evening lessons based on a talk from the April 2015 General Conference! Be sure to leave them comments thanking them for their hard work in putting the lessons together.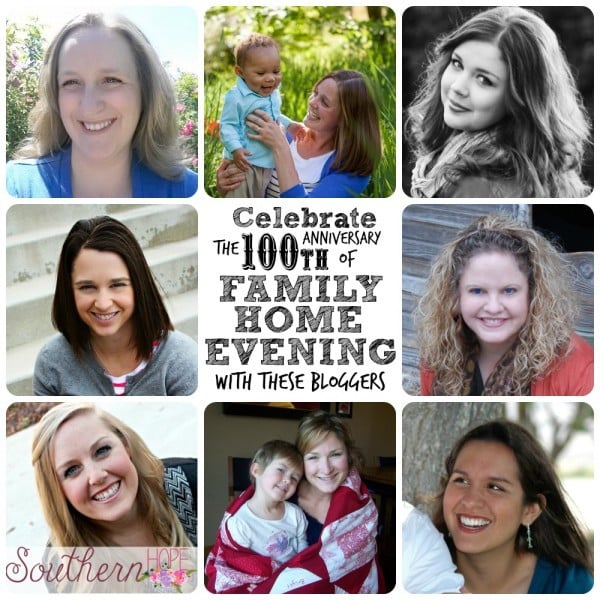 Camille @ Chicken Scratch 'n' Sniff | Heidi @ A Lively Hope | Sarah @ The Sprinkles on my Ice Cream
Ginger @ Ginger Snap Crafts | Kerry @ My Random Sampler
Whitney @ Southern Hope | Jocelyn @ We Talk of Christ | Montserrat @ Cranial Hiccups